About Us
About Us
Big Airbrush has been in business 33 years in Panama City Beach. We are located in Walmart Supercenters and are open 364 days a year.

All of our artists are seasoned veterans of the airbrush trade and can paint most anything you can come up with. We have over 1000 stock designs and shirts of all sizes starting at $4.

We paint T-shirts, Trucker Caps, Towels, License Plates, Sports Helmets & Equipment, Sand Dollars, Shoes and Bags, as well as many other items.

We welcome group orders and have a shirt printing system that will print any photo onto a shirt. Airbrush names and lettering can be added to any design.

Big Airbrush has stores in Panama City Beach, Ft. Walton Beach, Myrtle Beach and Orlando.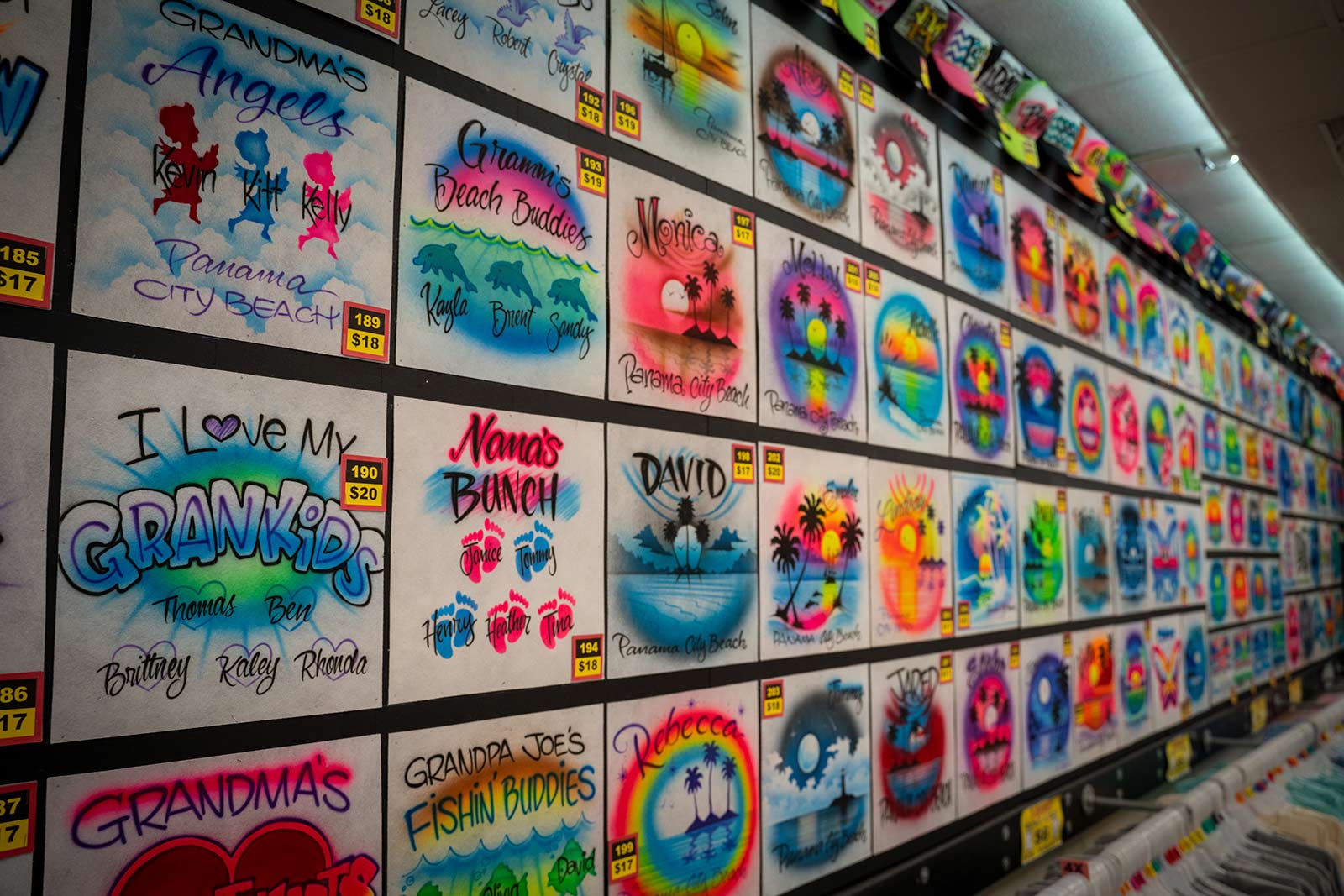 100's of Designs
to choose from!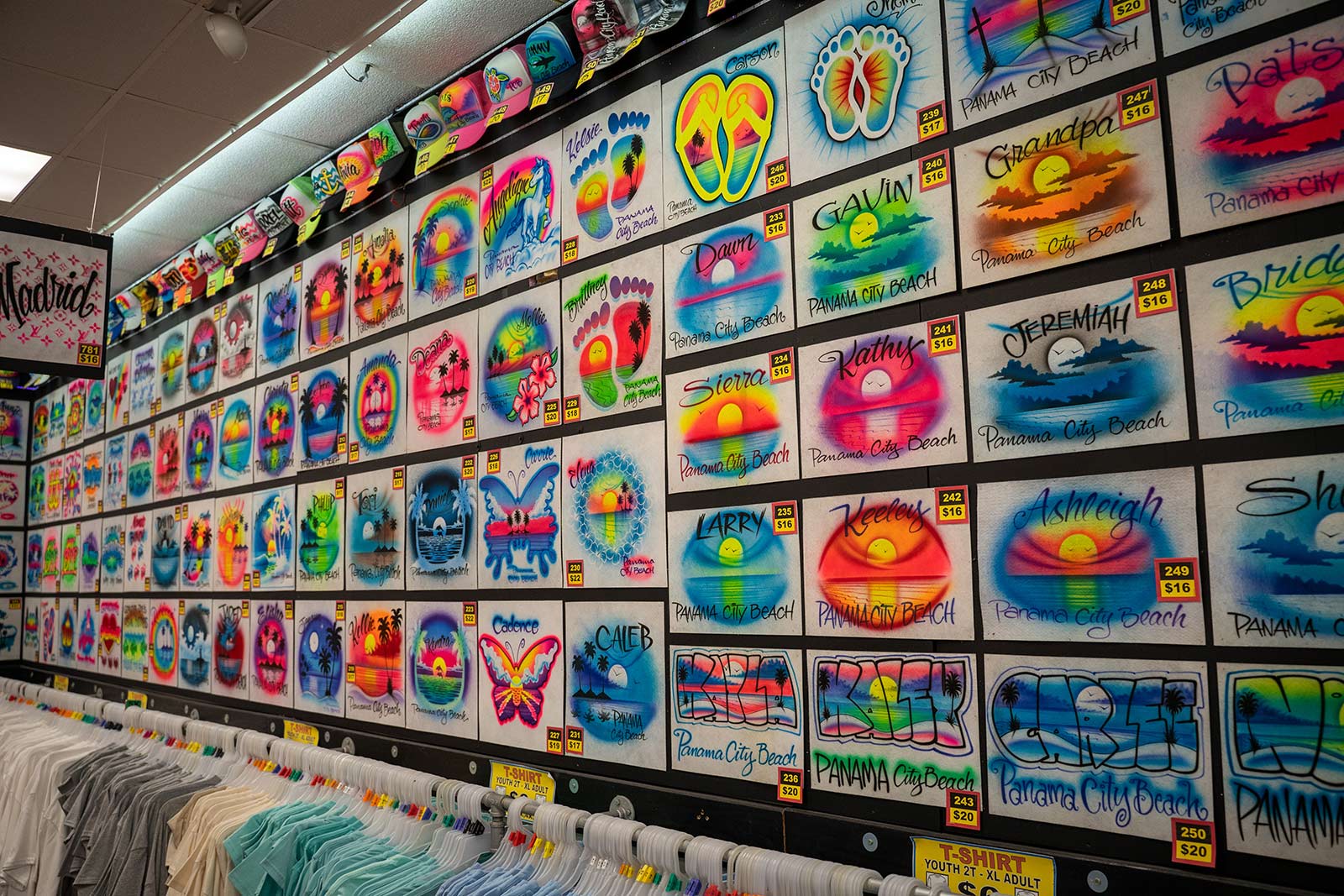 Airbrush
T-shirts, Hats & More!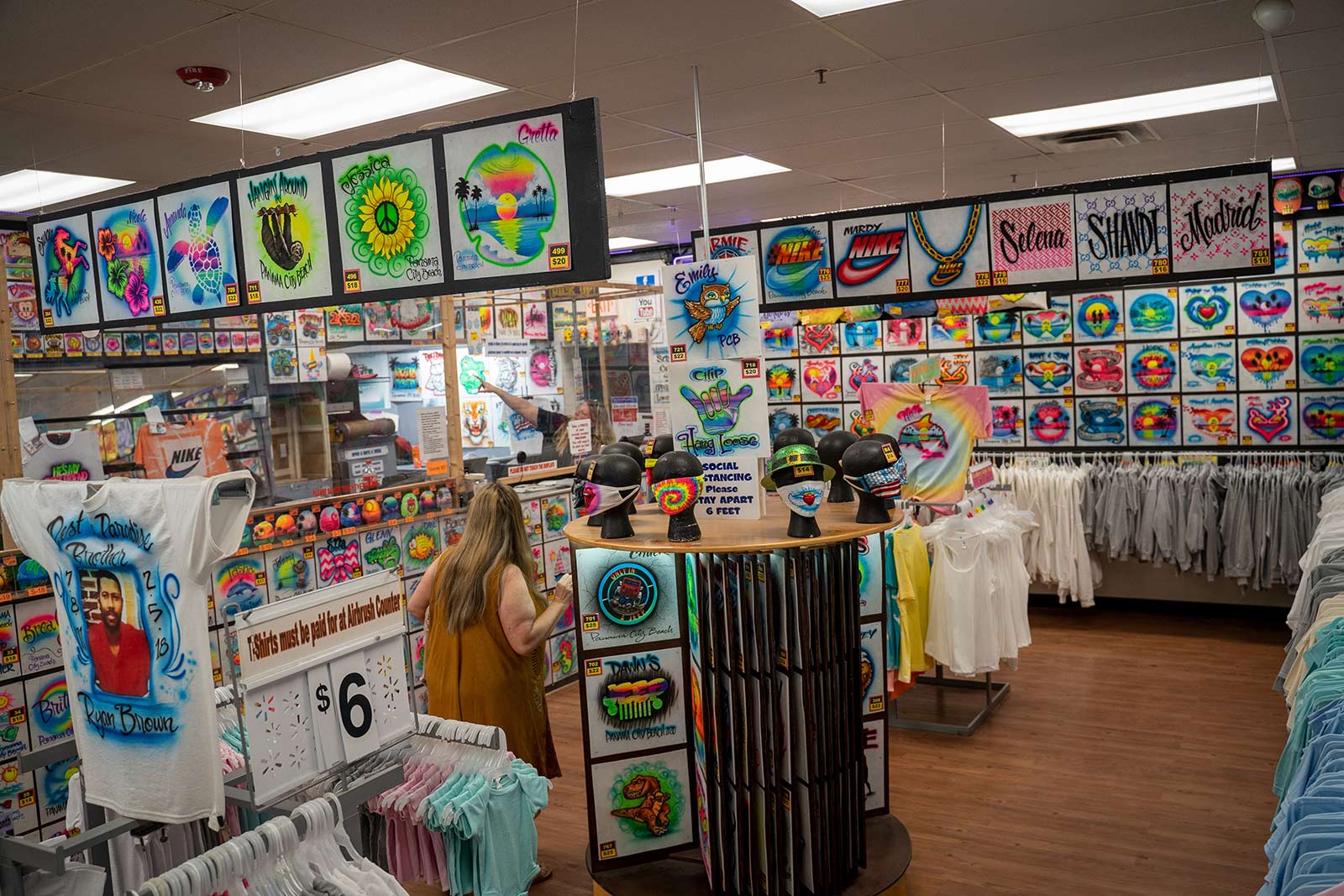 Store Pickup
Available at Pier Park!
Big Airbrush History
Around 1970, Rush, Owner of Big Airbrush, picked up his first airbrush and started painting shirts in his parents garage. It wasn't long, before he was taking orders at school for airbrush shirts. Rush watched Ed "Big Daddy" Roth airbrush shirts at a fair and was hooked. He was the first airbrush artist in Ft. Walton Beach. He moved to Hawaii and airbrushed surfboards and T-shirts.

Rush was one of the first artist to use an airbrush for every color and developed his hand cut stencil system that is now run on a C02 laser. Rush has a line of silent air compressors and likes to customize airbrushes. Some of the names used over the years were: airbrush by Rush, Rush Air, AirFX and finally, for the last 35 years, Big Airbrush. There are two locations on Panama City Beach at both Walmart Super Centers. We have a location in Ft. Walton Beach and you may have seen our three stores in Orlando. We are the Merchants of Cool! We are open 364 days a year, 8 days a week. Come by and see us, or order online.

When ordering, Make sure you:

Pick the right size shirt Spell your name correctly Tell us if you want the design on the front or back Pick out a name design for the front pocket area if you want Add 2023 or Panama City Beach to the design